Pre-Primary, Ages 3-6
At Prince of Peace we are dedicated to educating the whole child.  In the Pre-Primary classrooms you will see Math Materials, like beads, tiles, and spools for counting, cylinders for differentiating differences in size, and rods for recognizing the difference in amount.  You will notice the children working on art projects that help them develop grip (which will later lead to better pencil control).  Children will learn Language skills by practicing with the movable alphabet, sandpaper letters, sound bags, and reading books with teachers.  Children learn to care for themselves and their environment with washing and pouring activities.  There is a Peace Shelf where they learn about Religion and have materials that help them practice skills they will need to center themselves.  Children learn about their world with wooden puzzle maps shaped like the continents or the United States.  You will notice that the sense of community is strong in the classroom, as well as in the school.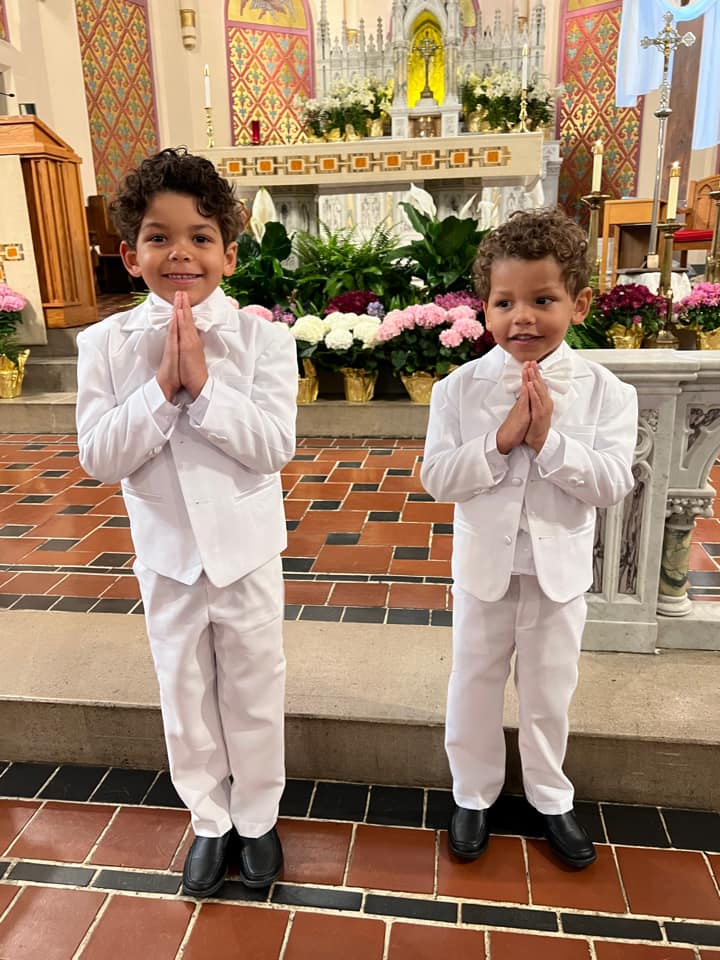 Primary Grades
Our multi-age, primary classroom includes a blend of Montessori, modern, and traditional methods. Respect for the child, having a well thought-out and prepared environment, as well as allowing students to have freedom within limits are just some of the Montessori practices in this classroom.  You will also see many modern approaches to learning in our primary classroom as well.  Many interactive, hands-on activities are offered to the students that appeal to their senses.  In the morning, students are taught in small, leveled groups while others are given a mix of assignments, and free-choice work, to complete at their own pace and desired order.  The comfortable, flexible seating in the classroom puts children at ease and makes them feel right at home.  The classroom is designed to encourage regular, purposeful movement throughout the day, which is critical to brain development and learning.  Children are given ways to manage their powerful emotions, taught how to respectfully express themselves, and taught peaceful problem resolution techniques.  The middle of the primary classroom is set up in a traditional fashion, with all students facing the front of the classroom.  While students can choose to work around the room, each child is also given their own personal space and materials.  Students learn from their table spot during whole-group instruction, discussions and activities.  In this classroom, self-control, discipline and an overall reverence for learning is obvious.  But, faith is always the main focus of education at Prince of Peace.  Children are taught the good news of Gospels, how to understand the stories of the Old Testament, and many various forms of prayer in first and second grade.  Their relationship with God is blooming at this point in their young lives.  It is our responsibility to nurture this blooming faith, and to work together to educate the whole child.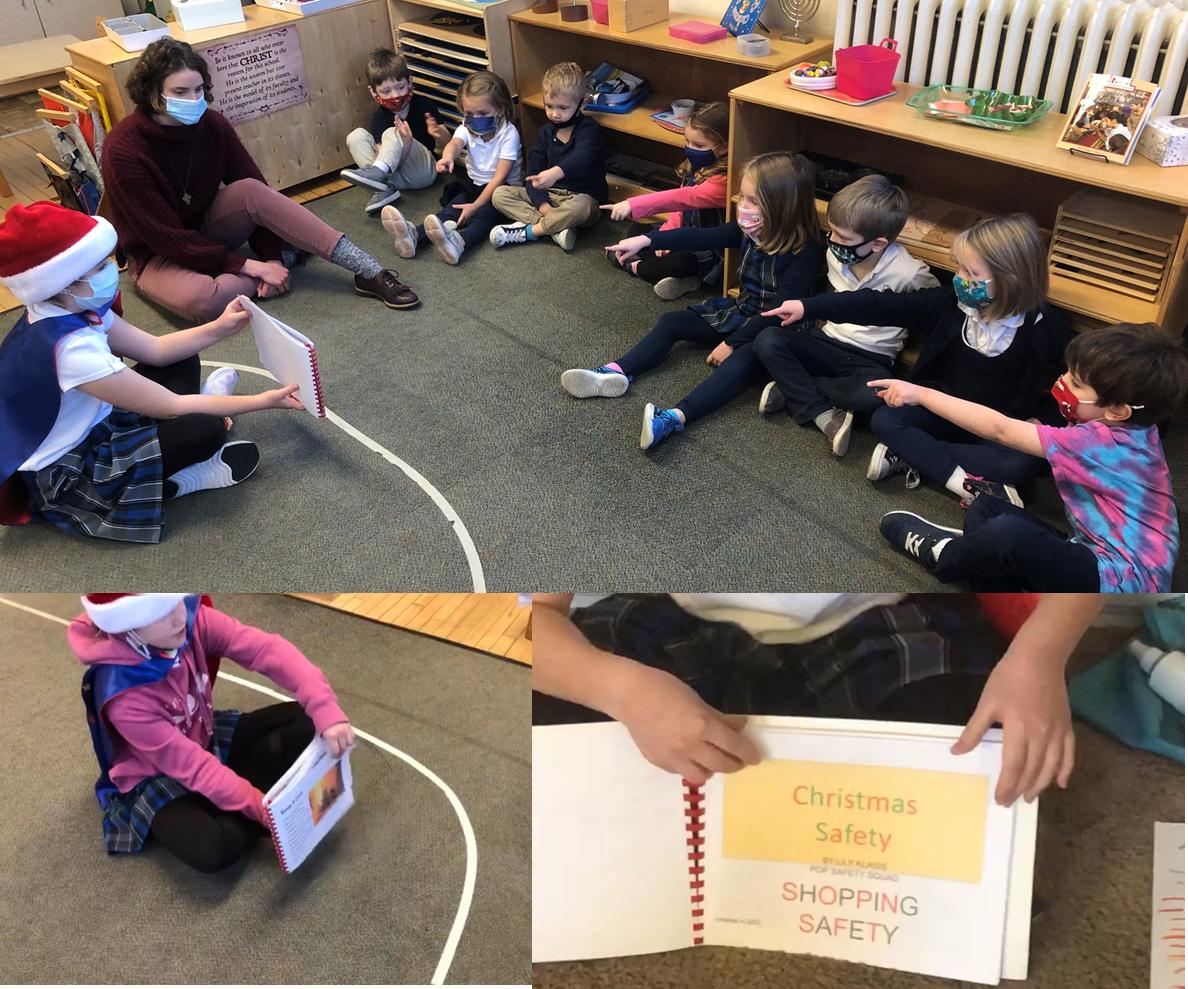 Intermediate Grades
At Prince of Peace we use textbooks as well as hands-on materials in our intermediate classroom.  Learning about the Catholic faith is a daily focus for us.  Students build on the basic Math and Reading skills they learned in the Primary Classroom.  Math includes mastery of basic math facts, all four operations with larger numbers, geometry, measurement, fractions, and problem solving. Our Intermediate Language Arts includes reading, grammar, spelling, and vocabulary study.  We read chapter books in groups and make connections to science and social studies themes.  Our science themes include: Physical, Life, Earth, and Space Sciences.  Social Studies themes include geography, history, government and cultures.  You will see both individual and group projects at this level.  Asking questions to help us learn is encouraged throughout the day.  Intermediate students care for their classroom with various jobs, such as taking care of our class pet, Hershey.  They are starting to embrace leadership roles and help with various tasks around the school, as well. They will grow in confidence by exploring their abilities and taking on more responsibilities as they learn and grow with us.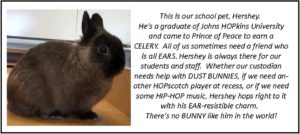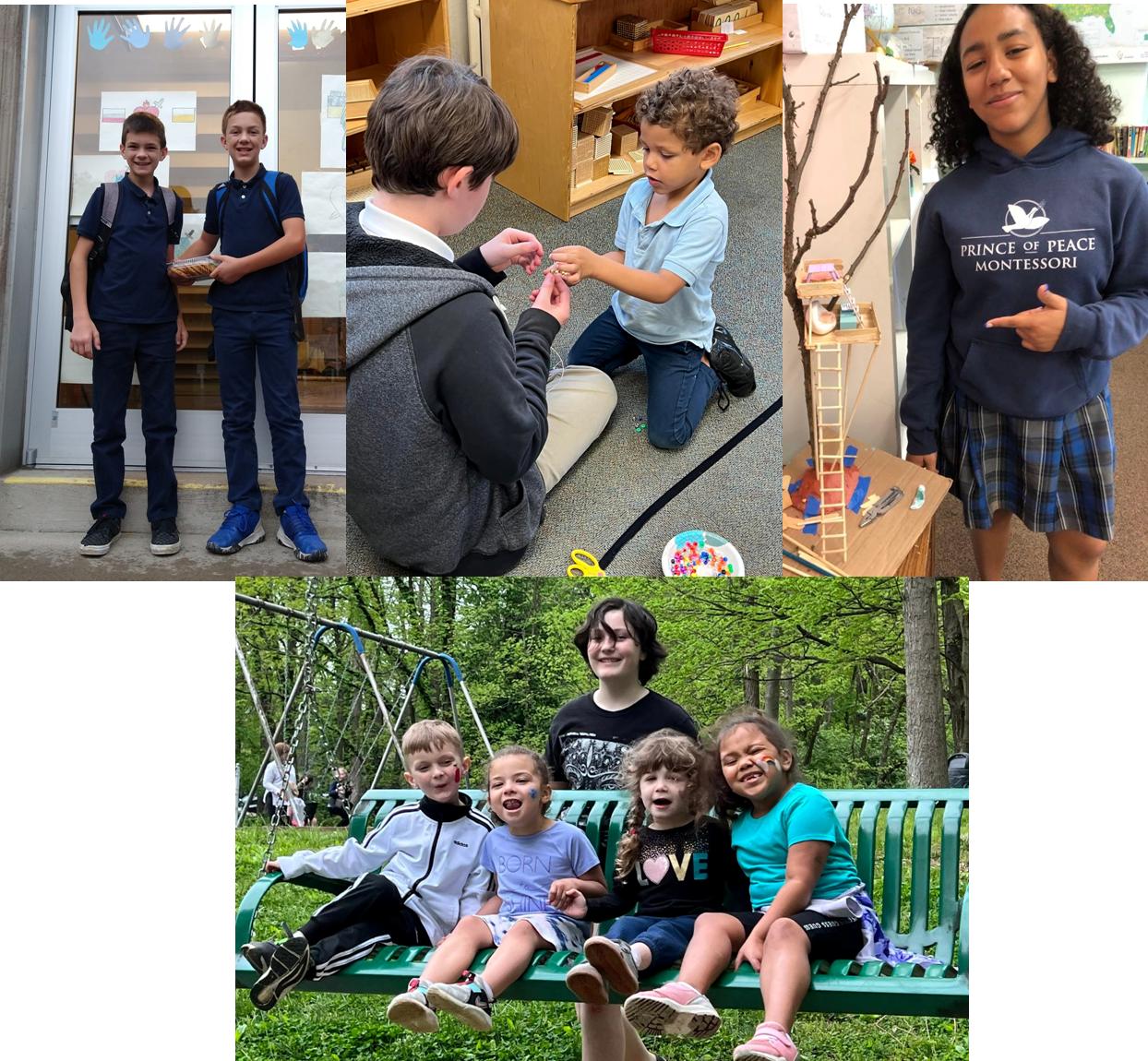 Junior High
At Prince of Peace we are dedicated to educating the whole child.  In the Junior High classrooms you notice that there are not as many manipulative materials on the shelves.  Students are at a stage in their learning where they do need as many concrete materials and are able to visualize things more abstractly.  Also, they are preparing to advance to high school.  They work on more complex Math ideas, like Pre-Algebra.  They learn geography skills and about our government with various hands on\real world activities.  They are reading novels and chapter books, creating presentations, and practicing their creative writing and grammar skills.   Children learn about the Catholic faith and Religions of the world.  They traditionally prepare a Stations of the Cross activity to help lead the entire school in prayer during Lent.  Our Junior High students take on leadership roles in the school such as having a kindergarten buddy that they enjoy meeting with at school, for fun and educational activities, and sitting with during mass, for more prayerful moments.  You can tell that our Junior High students feel pride in their school and themselves.