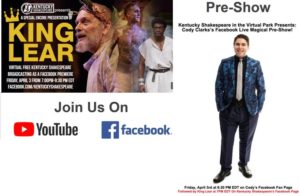 Kentucky Shakespeare presents a Special Encore Presentation of
King Lear by William Shakespeare
Directed by Matt Wallace
Virtual Free Kentucky Shakespeare Festival
Broadcasting as a Facebook Premiere and YouTube
Friday, April 3 at 7:00PM EDT
Short Summary of the plot:
King Lear is an aging monarch with no male heir. He decides to divide his kingdom among his three daughters and their husbands. He requires them to give speeches proving their love for him. The evil sisters Goneril and Regan use exaggerated flattery, but the good sister Cordelia speaks plainly and simply.

Pre-Show by Magician Cody Clark!
Friday, April 3rd at 6:30 p.m. on Cody's Facebook Fan Page
Click here to view Cody Clark's Facebook Fan Page
Click here at 6:30 p.m. on Friday, April 3rd to watch the Pre-Show (Cody Clark Magician)
Click here at 7:00 p.m. on Friday, April 3rd to watch King Lear on YouTube
Click here at 7:00 p.m. on Friday, April 3rd to watch King Lear on Facebook