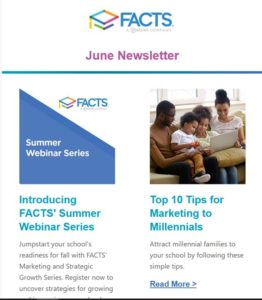 Click here to see the FACTS June Newsletter
Below is a letter about the FACTS program for the 2020-2021 school year:

June 17, 2020
Dear Prince of Peace Family,
Welcome to the 2020-2021 school year!  We are working hard on our plans to return to school for in-person instruction.  Our first day of school will be Wednesday, August 12th.  In the next few weeks we will be sharing more details about our daily schedule and the plans we have to keep all our students safe.
For the upcoming year, Prince of Peace Catholic Montessori will be using FACTS Grant & Aid Assessment to conduct the financial need analysis for families seeking tuition assistance.  FACTS is a safe, confidential and reliable way to determine each family's tuition assistance needs.
The 2020-2021 tuition rates are shown in the table below.  If your family needs to apply for tuition assistance, you will need to complete an application and submit the necessary supporting documentation to FACTS Grant & Aid Assessment by Monday, July 20, 2020.  Applicants can apply online by clicking the FACTS link at  https://www.popcov.com.  Once an online application has been completed, the following information will need to be sent to FACTS to complete the application process:
Copies of your 2019 Federal tax forms including all supporting tax schedules.
Copies of supporting documentation for Social Security Income, Welfare, Child Support, Food Stamps, Workers' Compensation, and TANF.
All supporting documentation can be uploaded in pdf or jpeg format online.
| | | |
| --- | --- | --- |
| 2020-2021 Tuition Rates | In-Parish Tuition | Out-of-Parish Tuition |
| 1 Child | 3,775.00 | 6,180.00 |
| 2 Children | 6,395.00 | 10,690.00 |
| 3+ Children | 8,240.00 | 13,725.00 |
Once the tuition assistance has been determined, you will receive additional instructions for setting up your tuition payments.
If you have questions or concerns about the application process, you may speak with a FACTS Customer Care Representative at 866-441-4637.  For all other questions please contact the school office at 859-431-5153
In Pace,
Mr. Tony Barkley, Principal
Ms. Karen Middendorf, Administrative Assistant
Prince of Peace Catholic Montessori School Administration

121 South 13th Street    Lincoln, NE 68508  FACTSmgt.com
Please contact our school office at (859) 431-5153 for questions and concerns about tuition discounts and financial aid.